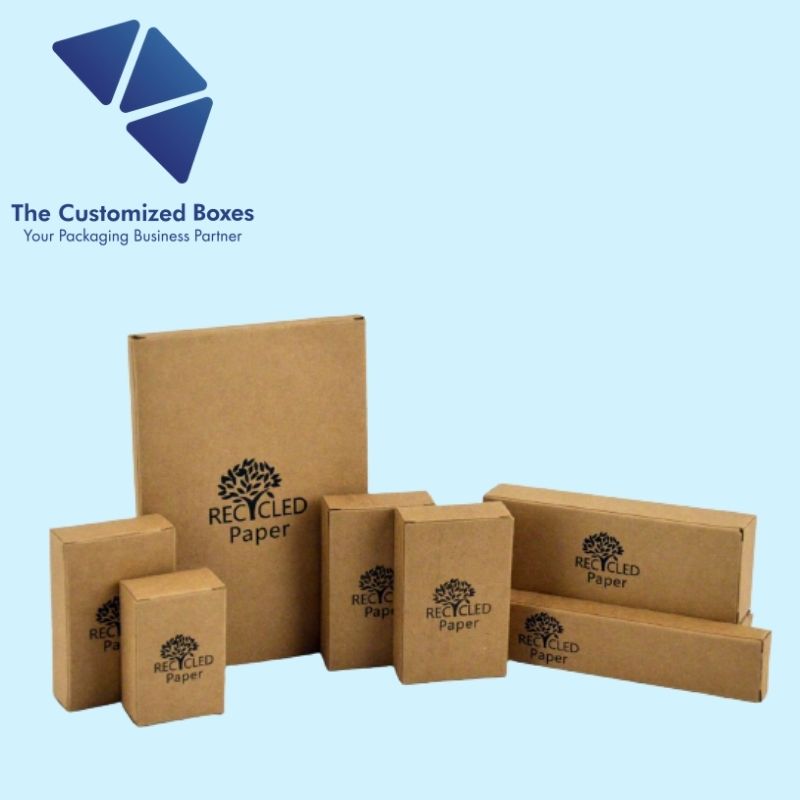 Get High-Quality Custom Kraft Boxes
Custom Kraft Boxes are a type of product carrying boxes produced from a mixture of chemicals made from wood chips. This mixture is called chemical pulp and is usually formed by a non-fibrous mixing of wood, lignin, and cellulose fibers. Moreover, These boxes mostly come in light to a darker brown color. They are used in businesses as well as houses for easy shipment of products and items.
People use these boxes when they move from one place to another, whether in the same town or to another city or country. Commercially, these packaging boxes are used for the storage of different types of products, especially when these items are packed in stocks. In addition, These products include cosmetics, cloth, perfumes, stationery, books, paints, dyes, plastics, etc.
These product carriers from our company are well-known for their quality. At The Customized Boxes, we provide free shipping in the USA for these Kraft Boxes to any destination. Check unique "Cardboard Boxes" with various customization options perfect for your business.
Types of Kraft Packaging
There are many different types of this type of packaging. The main types include counter display boxes, Kraft bakery boxes, Kraft gift packaging boxes, Kraft mailer boxes, sliding drawer boxes, etc. As well, These boxes are very widely used by almost every business. We at The Customized Boxes manufacture all types of this product carrying boxes, in every size and shape.
We offer a custom design option to our customers to choose what type of packaging they require and give them the design and size that they want. In this case, Clients can choose whichever shape, size, and design they want for their packaging at our company. We offer all types of customization to our buyers and a healthy and friendly workplace environment.
Also, We provide custom shapes and sizes and help our clients choose the best type of packaging they require for their products. Our boxes fulfill all aspects of good quality packaging, including safety, security, easy carriage, shipment, and protection from unusual situations such as rain, etc.
Major Uses of Kraft Box Packaging
Kraft box packaging is used for many different purposes. Additionally, The main purpose is wholesale product carriage. Retail shops use such boxes when they have to pack items in stocks at a high commercial level, as well as industrial and low commercial levels. Moreover, These boxes are used in the packaging of creams, lipsticks, makeup, perfumes, custom lotions, cosmetics types.
Toiletry and hygiene items are also packed in such product carriers. Other uses of such boxes are food packaging, textile packaging, stationery packaging, packaging of books, crockery packaging, utensil packaging, and almost all other items at a high and lower market level. Therefore, Food industries use these boxes to store all types of items, including chocolates, candies, biscuits, cakes, etc.
These boxes are used at restaurants and bakeries as well to accommodate their items. Their hard and sturdy nature makes them the best type of storage for food items.
Being a huge advantage for major businesses globally, these product carriers have some major problems. They are water-sensitive and get wet and soggy easily, which may cause damage to their contents. Also, They cannot carry very high loads of weight. Sharp and pointy objects cannot be stored in them because they may cause them to tear and fall apart.
At The Customized Boxes, we coat these boxes with different materials to make them water-proof and stronger. We offer aqueous coating, foiling, lamination, gloss, and matte coatings to make them work against the effects of water and other moistures in the environment, to make sure that the packaging is strong enough to protect the items from such damages.
Services Offered at The Customized Boxes
The Customized Boxes offer customers many different types of services. We offer custom designing and provide custom shapes and sizes to our clients. Our custom printed boxes are well-known for their quality and durability. We also offer the purchase of wholesale Kraft Boxes. Of course, Our product carriers are made with eco-friendly materials and are non-toxic, free from harmful chemicals, reusable, and biodegradable.
We offer free design support to our buyers and help them choose their packaging's best characteristics and qualities and customize it according to their needs. We have a fast turnaround time. Furthermore, Our shipping is free anywhere across the USA. So, Our workers have special instructions to ensure that the boxes' shipment is made safe, on time, and the items are delivered to the right destination.
We provide the coating services to make our boxes water-proof and reduce the risks of damage to the packaging contents due to rain, water spilling, or any other moisture. Moreover, We take no setup and dye charges from our buyers. Also, We make sure that our workplace has a friendly environment which helps to ease our customers in every possible way.
In addition, Our wholesale boxes are used and loved a lot by our clients. The reason being, our custom boxes are the best type of packaging material that is available in the USA. Additionally, Our boxes not only come with added security features. Among them, the most popular is the coating that we do on our boxes. As explained above, Kraft box packaging is as essential as the product.
Our research and development department thrives hard to make the best Kraft box packaging for your product. That would both carry your product efficiently and also act as a marketing tool.
Product Specification
| | |
| --- | --- |
| Box Style | Punch Partition, Tuck Flap Box, Pillow Box, Gable Box, Sleeve Box |
| Dimension (L + W + H) | All Custom Sizes Available |
| Quantities | 100 – 500,000 |
| Paper Stock | 10pt to 28pt (60lb to 400lb) Eco-Friendly Kraft, E-flute Corrugated, Bux Board, Cardstock |
| Printing | Plain, CMYK Colors, PMS (Pantone Matching System), Spot Colors |
| Finishing | Gloss Lamination, Matte Lamination, Gloss AQ, Gloss UV, Matte UV, Spot UV, Embossing, Foiling |
| Included Options | Die Cutting, Gluing, Perforation |
| Additional Options | Embossing, Window Patching, (Gold, silver, Cooper, Red, Blue Foil Stamping) |
| Proof | Flat View, 3D Mock-up, Physical Sampling (On request) |
| Turnaround | 8-12 business days after press-ready file confirmed by the client |
| Shipping | Ship Flat, Packed in Boxes, UPS, FedEx, DHL |